In Commemoration of Veterans Day
Wednesday, November 11, 2020 will mark the 101st anniversary of Armistice Day. Amended in 1938 and renamed to Veterans Day so it includes all who have served in the United States Armed Forces, Veterans Day serves as a day of reflection and recognition. The Nixon Library Education and Public Programs Team hopes to provide a brief history of this National Holiday, information about how the policies of President Nixon's administration supported Veterans and to give you the opportunity to participate in four socially distanced, virtual events produced for and by our local community. 
November 11th- A Day of Reflection
Armistice Day- World War I
June 28, 1919 is the official ending of WWI but an armistice between the Allied nations and Germany went into effect seven months earlier on the 11th hour of the 11th day of the 11th month of 1918. November 11, 1918 became known as the end of the "War to End All Wars." The following year, President Woodrow Wilson proclaimed November 11th as the first commemoration of Armistice Day. Declared a legal holiday on May 13, 1938, it was a day dedicated to the cause of world peace.
Veterans Day- World War II and Korea
Armistice Day was primarily a day set aside to honor the veterans of World War I, but after the greatest mobilization of soldiers, sailors, Marines, and airmen during WWII and the Korean War in 1950, the 83rd Congress amended the Act of 1938 by striking out the word "Armistice" and inserting the word "Veterans." With the approval of this legislation on June 1, 1954, November 11th became a day to honor American veterans of all wars. President Dwight D. Eisenhower's Proclamation 3071 ensured widespread adherence to the holiday by creating the Veterans Day National Committee.
Proclamation 3071-
 "In order to insure proper and widespread observance of this anniversary, all veterans, all veterans' organizations, and the entire citizenry will wish to join hands in the common purpose." 
The Veterans Day National Committee-
Responsibilities include a Veterans Day poster contest, planning of the National Ceremony that is held each year on November 11th at Arlington National Cemetery, creating educational resources, and also recognizing a number of regional sites for Veterans Day observances throughout the country.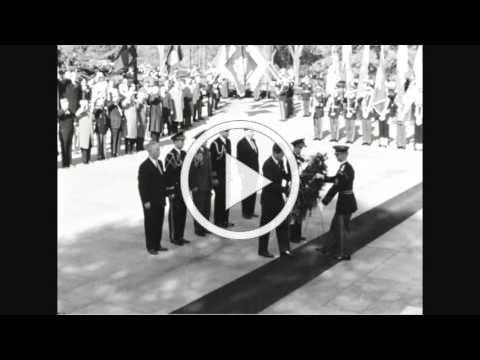 Veteran's Day Ceremony with John F. Kennedy
Veterans Day Poster Contest Winner 2020
Veterans Day-Vietnam
The presidents of the United States during the Vietnam War were Dwight D. Eisenhower, John F. Kennedy, Lyndon B. Johnson, Richard M. Nixon, and Gerald R. Ford. Veterans themselves, the Vietnam War played a crucial part in each of the presidential administrations and weighed heavily on the men personally. In 2020, there are 6,258,000 living Vietnam Veterans who can give testimonials to the psychological and physical effects of war. Join the National Archives on a virtual tour of the "Remembering Vietnam" exhibit and the online video series Remembering Vietnam: Twelve Critical Episodes in the Vietnam War. The National Archives is home to many war related historical videos, images, archives, blogs, oral histories, online exhibits, educational resources and access to veterans' service records.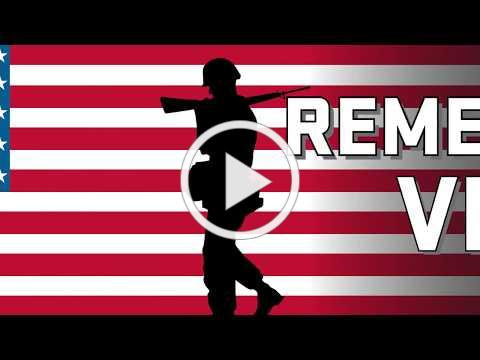 REMEMBERING VIETNAM at the National Archives Museum
Note from the Education and Public Programs Team at the Richard Nixon Library: The Vietnam War was one of the most consequential events in modern American history. President Nixon ended United States involvement in combat operations with the Paris Peace Accords in January 1973. This was an extraordinary accomplishment of the Nixon administration, and the Nixon Library is proud to include this important topic in its presentation of Veterans Day in America.
Richard M. Nixon
Veteran and Volunteer
As both a Quaker and federal employee, President Nixon had a valid exemption from the draft during WWII but felt compelled to enlist and fight for his country. He spent 24 years in the Naval Reserve retiring in 1966. Three years later he was elected the 37th President of the United States. In his 6 years in office, his administration  successfully ended American fighting in Vietnam. By October 1972, the troop strength in Vietnam was reduced to 30,000, down from the 535,000 it totaled when he assumed office.
Bills Signed by President Nixon on October 24, 1972

H.R. 12828: Vietnam Era Veterans Readjustment Assistance Act of 1972

H.J. Res. 748; Veterans Administration Medical School Assistance and Health Manpower Training Act of 1972
Believing that a volunteer armed force would be the fairest, most efficient, effective, and economical means of meeting military manpower requirements then candidate Nixon campaigned on the promise of ending the draft. In 1973, active conscription into the military ended and an all-volunteer force began. For a complete timeline (with links to primary documents) relating to the creation of a volunteer force, click here.
Nixon Ends the Draft: The Creation of the All-Volunteer Force (Transcript)
November 11th - A Day of Recognition for Veterans: Past and Present
 In commemoration of Veterans Day, the Education and Public Programs Team at the Nixon Presidential Library invites you to participate in four socially distanced, virtual events available to stream from the comfort and safety of your home.
Working Wardrobes Presents: A Special Online Screening and Discussion Panel
On Friday, November 6, there will be a free showing of the military documentary, Above the Best. After the film there will be a panel discussion weighing in on the challenges Veterans face after dedicating their lives to serving our country.
Above The Best Movie-Register Here
Cal Poly Pomona's Veterans Resource Center Presents: A Text Based Discussion About the Iraq/Afghanistan Wars and Original Play Premiere
Our partners at the Veterans Resource Center of Cal Poly Pomona are sharing two events. The first event is on Tuesday, November 10, and will be a text based discussion about the Iraq/Afghanistan war utilizing the novel Billy Lynn's Long Halftime Walk by author Ben Fountain.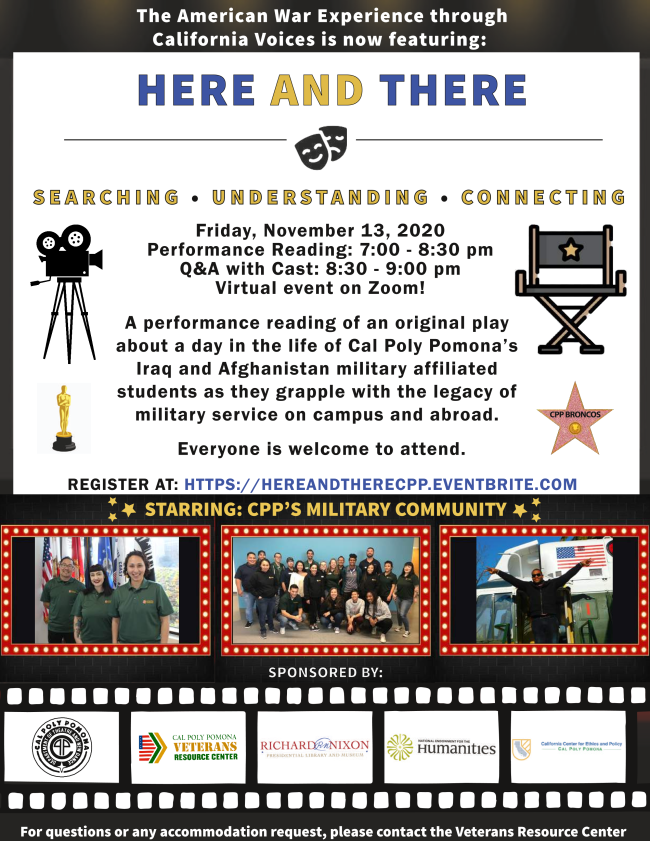 The second event on Friday, November 13, will be a premiere screening of an original play, Here and There, about the experiences of Cal Poly Veterans. 
Both events will be facilitated via Zoom.

Iraq and Afghanistan Wars Through A California Lens - Register Here
A performance of the original play, Here And There - Register Here
Chance Theatre Presents: An Opportunity for Local Veterans to Reflect and be Recognized

 Chance Theater's Veterans Speak Up is a FREE 6-week program with a mission to empower veterans to use theater to share their experiences with families, fellow veterans, and members of the public. The goal is to offer insight into the lives of veterans, including its challenges and points of pride. For more information, or to register for this free virtual outreach program, click here. The Richard Nixon Presidential Library was fortunate to host this powerful and meaningful project in December of 2019. Due to the current pandemic, this year will be a virtual performance on Zoom on December 15, 2020.